Diabetes 10 Point Training

How did 10 Point Training start?
My experience has taught me that errors occur when busy front-line staff  do not possess a basic knowledge of diabetes. Patient facing hospital staff will inevitably be treating patients with very complex diabetes but they may not have access to specialist training. 
This was the catalyst that led me to develop The Diabetes 10 Point Training in 2014 while I was working as Diabetes Clinical Lead at The Royal Free Hospital in London.
The original Diabetes 10 Point Training Programme was developed to improve inpatient safety with the understanding that ward staff often experience difficulties attending training that takes them away from the workplace.
Training is therefore taken to staff in their clinical areas to increase learning opportunities and training uptake.  Training is concise, fast and relevant to the clinical speciality and is supported by bespoke small aide-memory cards which contain the main learning points and safety messages, contacts and information.
Point 1: listen to the person; they live with their diabetes 365 days a year
Placing the person with diabetes at the centre and at number 1: is a core and universal theme running through all the training programmes.
This person- centred approach sets The Diabetes 10 Point Training apart from other  training programmes and this is the universal theme running through all programmes.
Embedded into all programmes is a challenging of the language and attitudes used towards the condition and people living with diabetes.  Ensuring that language is inclusive, non-judgemental and positive  raises awareness of the impact our words have on the care of the person living with diabetes and attendee feedback on this aspect has been strong.
Language matters: language and diabetes
Training content is developed around the most commonly seen diabetes related errors and challenges and front-line staff are empowered with new knowledge of when and how to escalate concerns about their patients.
The training objective is to simply deliver the main safety messages to staff while guarding against diluting information with overly complex and non-relevant detail.  This increases the likelihood that attendees will retain the key safety messages. 
Flexible training approach
Flexibility is key to the success of the training which is adapted to the needs of the department.  Some settings may favour an opportunistic 'drop in' approach to training while other departments will opt for pre-arranged scheduled training sessions for larger groups which may include a more formal presentation.   Opportunistic training can take as little time as 10 minutes while more formal training may take up to 40 minutes.
Adapting training content
A main strength of the training is the ability to adapt and customise content so training remains highly relevant to the audience.  For example oncology departments commonly focus on how to best manage high blood glucose caused by steroid treatment.  On surgical wards questions are raised about the use of intravenous insulin and glycaemic control during nasogastric feeding.
The Diabetes 10 Point Training Programme has gained national recognition.  It has been presented in Parliament at an All Party Parliamentary Group in 2016 and 2017 with Rt Hon. MP Keith Vaz and Rt Hon. MP Jeremy Hunt. 
The Diabetes 10 Point Training is also featured on The Diabetes UK website as an example of good practice
And in 2018 Diabetes UK publication "Making Hospitals Safe for People with Diabetes".
The vision and plan is to improve the care quality and safety for all people living with diabetes  by extending "at-scale training" across the patient pathway in all settings in the health and social care economy where there is a high prevalence of diabetes. 
The training is adaptable to all settings and we are ambitious to reach all staff to ensure that basic diabetes knowledge and skills are embedded in all teams. I have been with Dr Amrit Sachar to create versions of this diabetes training for mental health workers as well as mental health training for acute, community and primary care staff
Digital diabetes 10 Point Training in 10 minutes
The development of an online "Diabetes 10 Point Training in 10 Minutes" is underway, which will make the training accessible to thousands of front line staff with the potential to spread knowledge and improve patient care and safety across the diabetes pathway.
To date more than 2000 patient facing staff have been trained on a Diabetes 10 Point Training programme.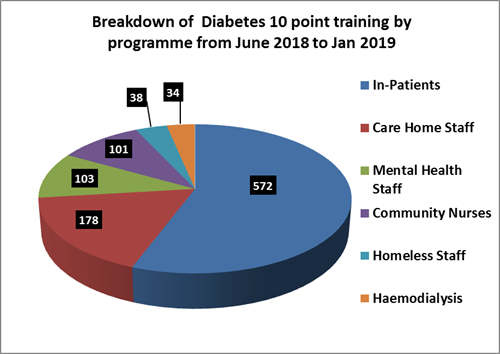 Train the trainer and workforce resilience
Using a "Train the Trainer" education model magnifies the spread of knowledge and increases resilience in the workforce.  Investment in staff through training is always vital because it leads to improved staff confidence in managing diabetes and staff who are invested in feel valued and this leads to improved staff recruitment and retention.
Use of Train the Trainer allows other service leaders to develop and deliver a bespoke version of the training in their own setting with the process supported and overseen to ensure quality and fidelity to the education model.
Diabetes 10 Point Training is runner up in the prestigious JBDS Rowan Hillson Inpatient Diabetes Safety Award 2019