REWIND your type 2 diabetes
This is a message of hope. And don't we all need a bit of hope at the moment?
This is a message of hope
And don't we all need a bit of hope at the moment? Until a few years ago my message to people with type 2 diabetes was in effect this: "You've got type 2 diabetes for life and it only gets worse. Try and lose some weight, but you'll gradually need more medicine and eventually, you'll be on insulin. Good luck."
Believe it or not, that was the message that pretty much every doctor or nurse would share with their patients with type 2 diabetes. You've probably heard a variant of this yourself….and may well have believed it.
The good news is that there is now hope...
My message has completely changed. Type 2 diabetes remission is possible now. By that, we mean coming off medication and having a blood sugar below diabetes levels.
In fact, remission is not just possible, but achievable, there's a programme running in North West London to help you, and it's working.
The programme has literally been a lifesaver for me and has improved the quality of my life beyond expectation - Mike
Watch this video to understand more about remission:
We called it REWIND for two reasons:
You're allowing your body to REWIND your diabetes and remove the fat in your pancreas and liver that's causing your type 2 diabetes.
It stands for REducing Weight with INtensive Dietary support. Like DiRECT, we're providing people with a huge amount of support throughout the programme.

What it involves:
After a referral from your GP, you get a phone call from the REWIND team to discuss the programme further
Assuming you're keen to continue, you discuss your REWIND start date and order a taster pack of the meal replacement products. They're pretty good (particularly the soups) and there are some great ways of spicing them up!
You do pay for meal replacement products during the diet replacement phase – around £2.25 per day in the first 12 weeks – but you're not buying food other than a few green vegetables at that point, so you'll generally still be saving some money.

You let your GP know your start date, which is also the date you stop most of or all your diabetes medication and possibly some of your blood pressure medication.
You join a group with your health coach and other people on the same journey. You meet regularly via video or phone over the 12-month programme.
You'll also get 4 hours of one to one phone support as well as some online learning, and support if you're struggling.
Your GP practice checks in with you regularly to monitor your blood pressure and blood sugar. 
Getting referred to REWIND is simple:

Results so far have been really impressive, with significant numbers of patients losing significant weight and staying off medication.
The feedback from our patients has been amazing:
I was diagnosed with Type 2 diabetes 7 years ago and struggled to make the changes I needed to make. I joined the total diet replacement programme and have lost 35kg over the first 3 months…Before the programme, I was taking 7 medications a day for my diabetes and associated blood pressure problems and now I no longer need to take any medication for diabetes and only one for blood pressure. I now have more energy and no longer feel as tired as I did - Paul
Find out more about the programme and how it's changing lives by watching this video:
How does it work?
As a result of the DiRECT study (Diabetes REmission Clinical Trial), and the research that Professor Roy Taylor has done in Newcastle (as well as a whole load of dedicated researchers in other places), we now understand a few things:
1. Type 2 diabetes is caused when your body can no longer store fat under the skin and it starts getting into the pancreas and liver, switching off insulin production in the pancreas.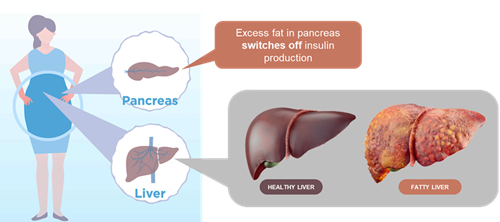 2. Everyone has a different personal fat threshold – the point at which you can't store any more fat under the skin and it starts getting stored in your liver and pancreas instead. That's why some people with diabetes are thinner than others.
3. However, losing just half a gram (that's less than the weight of a pinch of salt) of fat in the pancreas is enough to bring about remission.
4. To lose half a gram of fat in the pancreas you generally need to lose around 10-15kg. Around 15kg or more seems to be the magic number for most people.

5. Losing 15kg (two and a half stone) gives you about a 90% chance of coming off diabetes medication and getting to normal blood sugar levels, particularly if you were diagnosed within the last 6 years.
Even if you don't get off all your medication, you're likely to reduce it, and avoid progressing to insulin. You'll also reduce your risk of heart disease, cancer and arthritis.
You can join thousands of others making remission their mission this year, by starting your journey today.
Taking action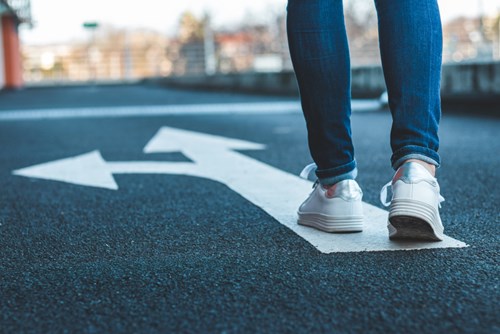 There's little to lose from joining the programme and huge amounts to gain, not just with your diabetes but also your wider wellbeing.
Patients taking part in the programme have described significant improvements in their overall sense of wellbeing and energy.
This programme is a game-changer
Why not speak to your GP today to take part?
A word about remission
We use the word remission to describe what happens when someone with type 2 diabetes has a blood sugar below diabetes levels for six months off diabetes medicines. We measure something called HbA1c. Above 48mmol/mol and you are diagnosed with diabetes. If you manage to get your HbA1c below 48 without being on medication for 6 months, you are in remission.
Of course, if your weight goes back up, the type 2 diabetes returns, so the key is to keep any weight lost off.