Only words...or is it?
Every interaction leaves a trace. That's why our language really matters.
When I was a kid, I wasn't that bright at school, but I could swim like a fish and dive like a shovel.
I swam for a club, trained three times a week and with galas on Saturdays, I was kept out of mischief... I was only 10.
We used to support a local charity. Wrestling was all the rage in the 'swinging sixties'. The parents at the club had a genius fundraising idea of auctioning handkerchiefs signed by the popular wrestlers of the day; Mick McManus, Jackie Pallo, Les Kellet and the like.
They raised money for what was then known as the Spastics Society. Nowadays, the term 'spastic' is of course, rightly regarded as an offensive old-fashioned term for someone who has cerebral palsy.
In 1994, the Spastic Society changed its name to Scope.
As a teen, I would stand behind the goal at Loftus Road, cheering on Queens Park Rangers. Lots of good-humoured banter goes on at football. Gerry Francis was a great hero and was once skipper of the 'Super Hoops'. Gerry was affectionately nicknamed 'geri-atric'. All footballers have playful nicknames.
Geriatric was once used in the medical field as a noun meaning an older or ageing person. Nowadays, that kind of demographic labelling is generally considered inappropriate.
Although the British Geriatrics Society, known as BGS, is still around, describing someone as 'geriatric' is frowned upon and is no longer considered respectful.
Recently, I attended the eye clinic as part of my annual routine of diabetes health checks.
You have four procedures on a typical eye screening day to enable the consultant to carry out a thorough examination:
Vision test using a Snellen chart
Eye drops to dilate the pupils
Scanning of both eyes
Digital pictures
There was an amusing exchange when the nurse first greeted me for the 'vision test' to check my personal details.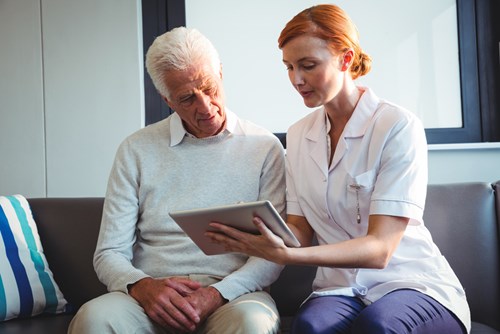 Nurse: "name?"
I tell her
Nurse: "date of birth?"
I tell her
Nurse: "first line of address?"
I tell her
Nurse: "and you're diabetic"
I say "no"
Nurse (surprised): "you cured?"
I say "No, I'm not diabetic. I just have diabetes."
Nurse (now laughing): "so you are diabetic!"
I say "Why do you call me diabetic?"
Nurse says "Because it says so in your notes!"
We both then had a good giggle, and the nurse says in closing "ok, I get it, I will change"
Ironically, even the clinic is named 'Diabetic Eye Screening'.
Going back in time, in 1934, H.G.Wells and Dr Robert Lawrence founded the Diabetic Association. This became the British Diabetic Association in 1954. Then in 2000, it changed to Diabetes UK.
Let's make our communication effective medication.
Next time you're tempted to call someone diabetic, why not pause and think...the person in front of you either has or lives with diabetes.
Every interaction leaves a trace. That's why our language really matters.
The End
For more information about language and diabetes, please visit the NHS language matters position statement with tips and advice for talking about diabetes