Don't feel confident using a computer?
Don't know how to create an email account?
Maybe you feel overwhelmed at the prospect of learning something new or don't know where to start.
We understand this can be stressful and to help you along your digital journey, we have collated some useful tips from how to get started to improving existing computer skills.
Improve your digital skills online
To improve your digital skills online, take a look at the website below or the instructional video: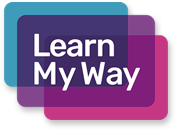 Learn My Way is a website of free online courses for beginners, helping you develop digital skills to make the most of the online world from digital beginners to courses focusing on specific topics, including managing your health online. (Click on the blue underlined text to go to the website)
Click on the image below to play the video:
If you prefer to learn in person:
There are Online Centres in most communities which is a great way to bring people together and reduce social isolation. Here people can go to get online in supported environments. Most also provide training in digital skills Find a centre | Online Centres Network.
Have you got a friend or family member who may be able to help you? Younger people who have grown up in the digital age can be a great help for anyone less confident.