REWIND: My Journey so far
Reflections on my REWIND journey so far.
Since my last blog in March, I wanted to reflect on how my REWIND journey has been going and share the challenges and successes I have captured in my daily journal.
Read my last blog here.
The first 12 weeks of the REWIND programme requires you to keep a daily journal to capture how you feel about your diet, sleep, exercise and emotions. While this may not work for everyone, I find the discipline of writing daily very helpful. It means that at the end of each week I can reflect on how I am doing, before setting my goals and targets for the next week and record these in my REWIND logbook.
The support so far
The support I have received from my GP and the REWIND team has been excellent.
The way the programme is coordinated in North West London is really impressive. This includes the course materials I was sent before starting the programme, the pre-course health calls and 10-minute online checkups with my GP, the text reminders, the 4 weekly health calls, group sessions as well as the regular goal-setting sessions.
All of this, plus the honest recognition that not everything will be easy, has meant that I've felt hugely supported.
My progress so far and overcoming challenges
I was feeling very positive about the progress that I had made with regard to weight loss, regular exercise and good sleep during the first six weeks of my REWIND journey.
However, I did hit a wall in early March when my workload changed, and I had to fit in longer working days two days a week. This impacted my ability to manage my diet effectively and my weight loss plateaued for four weeks.
The good news was that my weight did not go up! I took time out and made some small adjustments to my routine. I made sure that my team were supportive of these changes and that they would not impact our work.
I recognised, as the weather was changing that I could increase my daily exercise routines by a small amount each day to compensate for the work changes that I had made.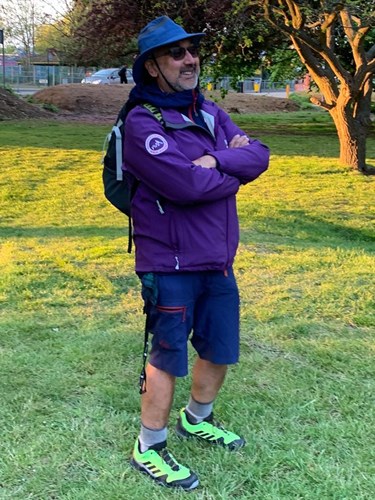 Thankfully, these changes meant that I began to lose weight again and continue to achieve my weekly goals whilst also seeing an improvement in my work productivity.
Sharing success
At the same time, I have seen fantastic wins for the other members of our REWIND group.
These successes were shared at our last video group session, with two members losing between 10–15kg's and reducing their medication in the process. We celebrated virtually thanks to our group's health care coach Daniel.
Pushing forward
This month, I will begin training for a Nordic walking half marathon I have signed up for in September and am also looking forward to completing the One Million Step Challenge for Diabetes UK, alongside my friends from the North West London Partners in Diabetes Team.
I hope that I can inspire more people to get involved in REWIND and take the first step in reversing their type 2 diabetes and reducing their medication while, like me, improving their quality of life after living with diabetes for 10 years.
If you have been inspired by Denis, then speak to your GP to join REWIND today.