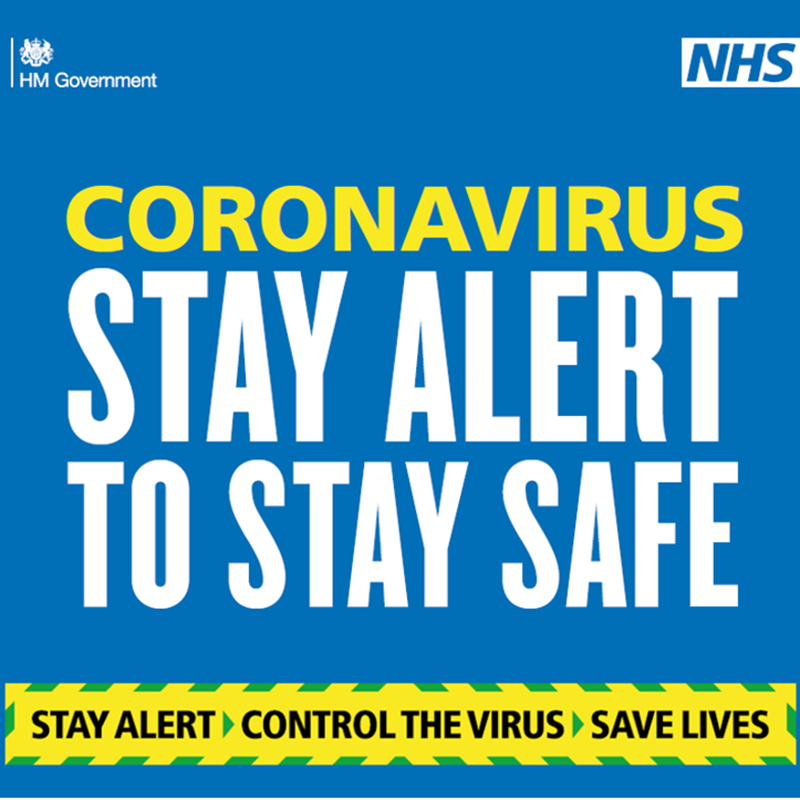 Coronavirus: Specific guidance for people living with diabetes
If you live in Hammersmith and Fulham, Kensington and Chelsea, Westminster, Ealing, Hounslow, Brent, Hillingdon or Harrow and have diabetes or you are at risk of type 2 register your interest in the Know Diabetes service today.
We're here to help.
Coronavirus: Specific advice for people living with diabetes
Having diabetes does NOT mean you are more likely to catch coronavirus.  However, if you do catch coronavirus, it can cause more severe symptoms and complications in people with diabetes. It's important therefore to remain protected as much as possible.
The risk of developing more severe symptoms of coronavirus is thought to be increased in those whose HbA1c (average blood sugar) is higher, people in older age groups, people who are overweight, people from black, Asian and minority ethnic backgrounds, and those with other long-term conditions such as cancer or chronic lung disease.
Specific advice to lower your risk:
Type 2 Diabetes or Prediabetes (non-diabetic hyperglycaemia):
Many people who are overweight and have Type 2 diabetes or prediabetes (non-diabetic hyperglycemia) are focusing on losing weight as a way of improving their blood sugar and reducing the risk of more severe disease. Check out our resources on low carb and Type 2 diabetes remission to find out more - note that you should only stop medication

on the advice of a doctor

. We've also put together some information about healthy eating and healthy eating on a budget during COVID 
Ensure that you are taking your medication regularly as prescribed by your doctor
Check out the wellbeing advice in our Know Diabetes blog
Type 1 Diabetes:
You may find you have extra time to check blood glucose more often and to focus on getting your diabetes on target. Check out our Type 1 education courses or other Type 1 resources for help and ideas.
If you get sick, seek help. Read more below.
Latest updates
The Government advice is for everybody to stay at home as much as possible but there have been some changes to lockdown for people in England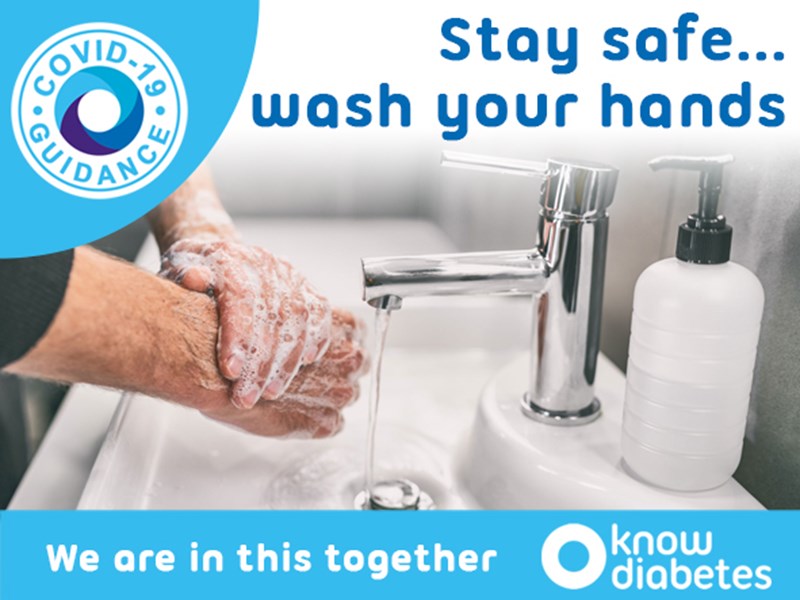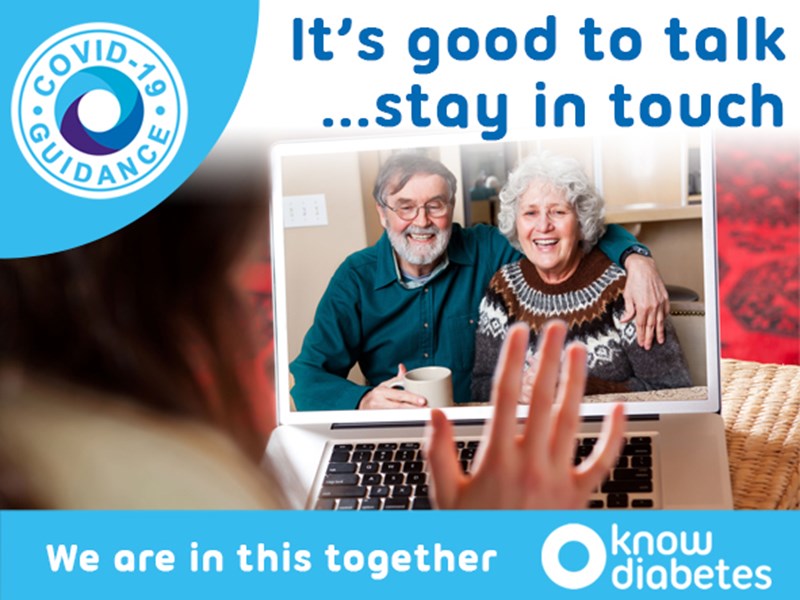 While the UK government has recently eased some lockdown restrictions in England, the advice for people with diabetes across the UK is still to stay at home as much as possible and to minimise contact with people outside your household. Only go out for:
You can only leave your house for the following reasons:
Basic necessities such as food and medicine.
Exercise - In England only, you can now drive somewhere to exercise for activities such as tennis, golf and angling.
Any medical needs – to visit a pharmacy or deliver supplies to a vulnerable person.
Going to and from work if you cannot work at home.
Do not leave home if you or anyone in your household has symptoms
If you have to leave your home for any of the reasons above, you need to wash your hands as soon as you get home and still follow strict social distancing measures. You should also ensure you stay 2 metres (6 ft) apart from anyone outside your household when doing these activities.
If you live in England, you can sit and rest outside. You can also meet up with one person from outside your household, as long as you still follow the social distancing guidelines and keep 2 metres apart at all times. 
Keep up to date with the latest guidance from the UK government about staying alert and safe here.
What should I do if I have symptoms (self-isolating)?
Do not leave home if you or someone you live with has any of the following: A high temperature, a new, continuous cough, a loss of, or change to, your sense of smell or taste.
Most people with coronavirus have at least one of these symptoms.
You can find help on HM GOV website if you're struggling because of coronavirus, for example with paying bills, being out of work or taking care of your mental health. You can also sign up to get emails when they change any coronavirus information on the GOV.UK websites
Staying at home if you have symptoms (self-isolation)
If your symptoms are mild, NHS 111 will usually advise you and anyone you live with not to leave your home.  This is called self-isolation
Anyone with symptoms should self-isolate for 7 days from when their symptoms started
Anyone who does not have symptoms should self-isolate for 14 days from when the first person in your home started having symptoms
If your GP is closed, use the NHS 111 online coronavirus service or phone NHS 24 (111). In addition, it is now recommended that all individuals living in the same household as an asymptomatic person should self-isolate for 14 days (household isolation). Information on COVID-19, including "stay at home" advice for people who are self-isolating and their households, can be found on the NHS website. 
If you have diabetes and start to feel unwell you need to follow the sick day rules for type 1 on multiple daily injections, type 1 on an insulin pump or type 2 and check your blood glucose frequently. A useful summary of these (courtesy of the Primary Care Diabetes Society) is shown below.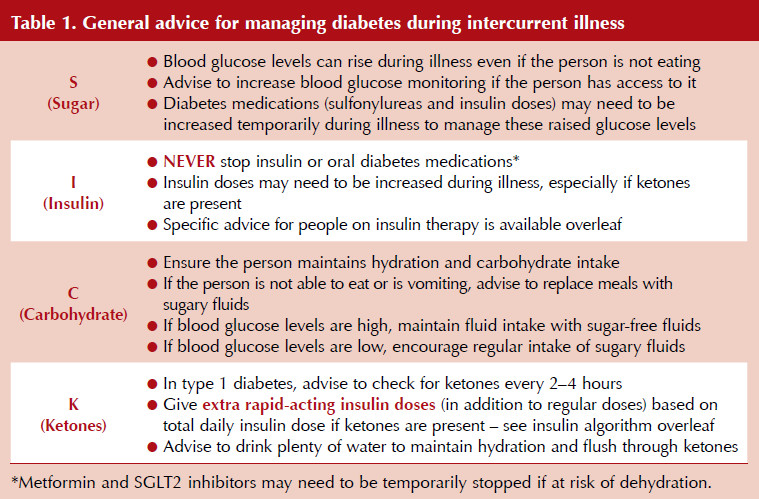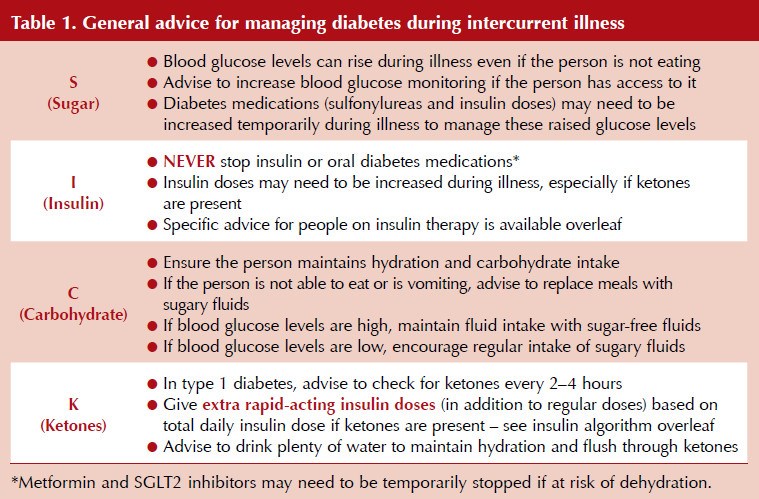 Information for pregnant women and their families, please refer to this source. 
It's important not to go to your GP surgery, hospital or pharmacy if you think you may have coronavirus, please use the NHS 111 online tool or dial NHS 111 for further medical advice.
How coronavirus can affect people with diabetes
Everybody that has diabetes, no matter whether type 1, type 2 or gestational, is at risk of developing a severe illness if they get coronavirus, but the way it can affect you varies from person to person.
When you are ill and have diabetes, your blood glucose levels can be unstable as your body is trying to fight the illness. Your body starts releasing stored glucose into your bloodstream to give you energy, but as a person with diabetes, your body either cannot produce insulin or the insulin you produce doesn't work as well. This causes your blood glucose levels to rise which makes it harder for you to manage your diabetes. This can increase your risk of both high and low blood glucose levels as your body is working overtime to fight the illness.
For most people, the coronavirus causes a mild illness, but some people can develop a more serious form of the virus which can be life-threatening. It is important that people with diabetes follow the sick day rules for type 1 and type 2 and use the NHS 111 online coronavirus tool or dial NHS 111 for further medical advice.
SGLT2i medication
If you have type 1 diabetes and you take SGLT2i tablets (medication that ends in 'flozin'), your doctor may want you to stop taking these for just now. This is because SGLT2i tablets can mask the symptoms of DKA (diabetic ketoacidosis) which can be caused by coronavirus.
If you have type 2 diabetes and take SGLT2i tablets, you can keep taking these unless you become unwell. If you are unwell, these tablets could increase your risk of developing diabetic ketoacidosis. 
There are lots of different types of SGLT2i tablets so have a look at Diabetes UK for the full list of brand names.
Shielding advice
Shielding is a way to protect those that are 'clinically extremely vulnerable' and at a very high risk of severe illness from coronavirus. This involves staying at home and avoiding all face-to-face contact for at least 12 weeks. In England, you can go outside once a day with the person you live with, or one person from another household if you live on your own. If you are shielding and do meet someone outside, make sure you follow stringent social distancing.
Those that are classed as extremely vulnerable are people with certain types of cancer and severe respiratory conditions. To find out more about shielding and who should be following this advice, please check the UK Government website.
People with diabetes are not in the clinically extremely vulnerable group (shielding group). People with diabetes are in the 'clinically vulnerable group'. This means you should still stay at home as much as possible and if you do go out, be really careful to avoid contact with people you don't live with.
Some people with diabetes may also need to follow this shielding advice if they have other medical conditions, for example, those with kidney disease or cystic fibrosis-related diabetes. 
Based on the latest data, the UK Government do not think that shielding is appropriate for all people with diabetes. But they do think that people with diabetes at higher risk – those over 70 or with other risk factors – should be contacted by their healthcare teams to talk about their support needs, including if shielding is right for them. If it's appropriate, your healthcare team should be able to get a shielding letter issued so that you get the right support. 
Speak to your healthcare team if you're very worried about your risk, or call the Diabetes UK helpline team to talk things through.
NHS Diabetes Advice Helpline - FAQs
What it is and who is it for?
NHS Diabetes Advice is provided by NHS England and NHS Improvement in response to disruption to normal services due to the COVID-19 pandemic and response.
The service is for adults living with diabetes who use insulin to manage their condition and require immediate advice from a team of clinical advisors.
Whether they or a member of their household have caught the virus, or routine care has been disrupted, the helpline can provide clinical advice to help them understand how to effectively manage their diabetes.
How do patients access it?
The helpline is accessible via Diabetes UK's support line on 0345 123 2399. It is open Monday to Friday from 9am – 6pm.
What clinical advice will the helpline provide?
NHS Diabetes Advice supports adults living with either type of diabetes who use insulin to manage their condition, and who require clinical advice on topics such as Hyperglycaemia, Hypoglycaemia, Sick day rules and Missed injections.
However, the service is not intended to replace routine care, support paediatric patients or support pregnant patients. These patients are advised to contact their own doctor or care team.
Who are the clinical advisors?
NHS Diabetes Advice clinical advisors are volunteers. They are all health professionals with expertise in diabetes. All the advisors providing advice are clinically trained and competent.
If you have hospital and GP appointments
Do not go to the GP surgery, pharmacy or hospital if you have coronavirus symptoms. If you are having treatment for something such as an eye or foot problem and you do not have coronavirus symptoms, then your appointments should still carry on unless you have been contacted to cancel it. If you are in any doubt then phone the number on your appointment letter.
Most routine appointments such as your annual diabetes review have been cancelled for just now. These will be rescheduled once the situation returns to normal. In the meantime keep up your routine of checking your feet, keeping to a healthy diet and doing some physical activity.
If you notice something different that you are concerned about such as a cut or blister to your foot, call your GP and let them know. If you cannot get through then call 111 for advice. If you have a change in your vision you should get in touch with your local screening service or optometrist.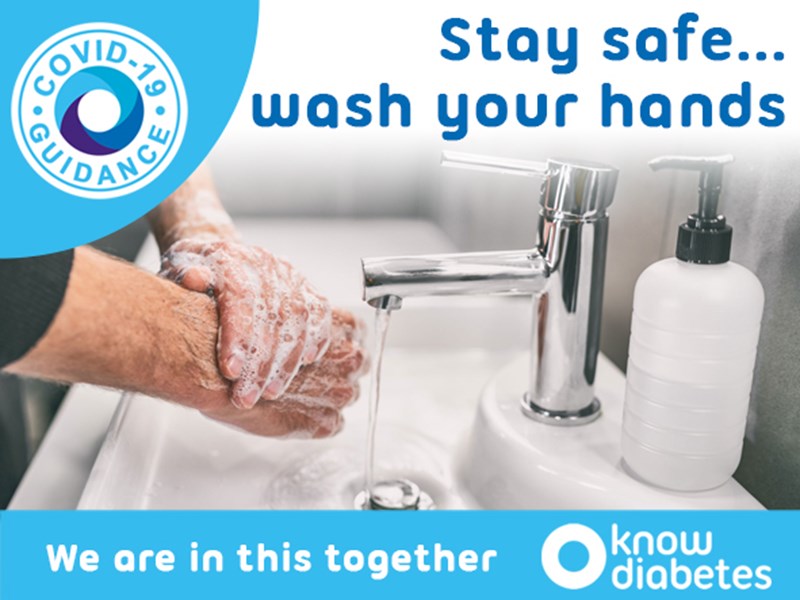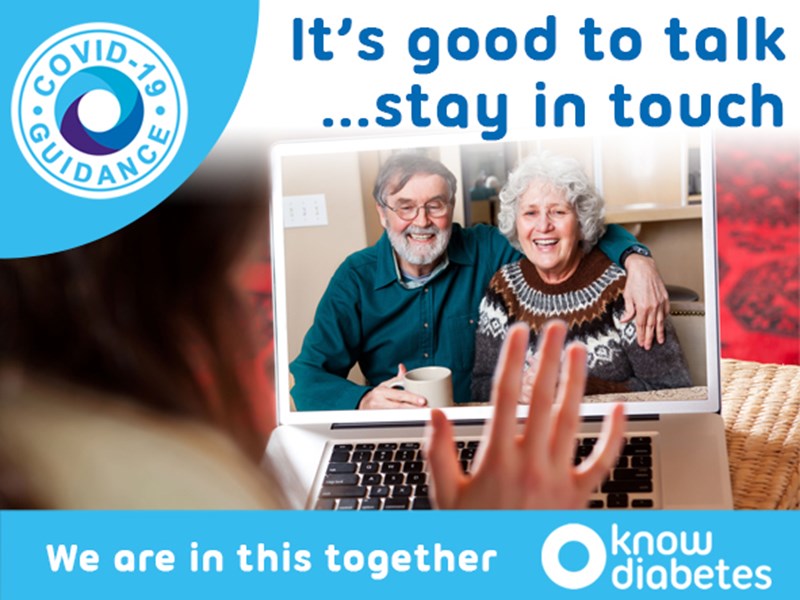 Other tips to keep safe and well 
If you have type 1 diabetes:
If you have type 2 diabetes:
Practical advice to help you right now
Children and school
Everyone, including children, can get coronavirus. All of the guidance regarding social distancing and staying at home as much as possible apply to children with diabetes too.
in some areas of the UK, the government is starting a phased return of more children going back to school. This is happening in England first. Schools should be practising social distancing for your child. This is to prevent the virus from spreading between children and your home. Talk to the teaching staff if you don't feel that social distancing is possible in your child's school.
You may be worried about the safety of your child returning to school if they have diabetes. We recommend speaking to the school and to your child's diabetes team about your concerns – they should be able to give you the information you need to help you make a decision.
There will be more up-to-date guidance from the government about this soon so this page will be updated as soon as it is published. You can find all of the latest news from the government about coronavirus on their website.
Travel and leisure
COVID-19 Exceptional Travel Advisory Notice
As countries respond to the coronavirus pandemic, including travel and border restrictions, the Foreign & Commonwealth Office advises British nationals against all but essential international travel.
Holiday homes and overnight stays
People with holiday homes and caravans are still not permitted to travel to their second home or to stay overnight. 
Leaving your home - the place you live - to stay at another home is not allowed.
Click the link here for more details on GOV.UK website.
To avoid catching or spreading Coronavirus
Do: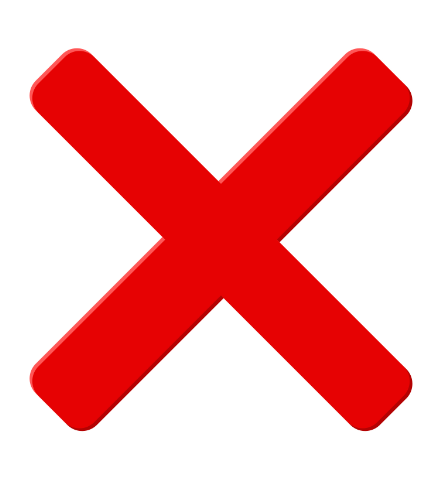 Don't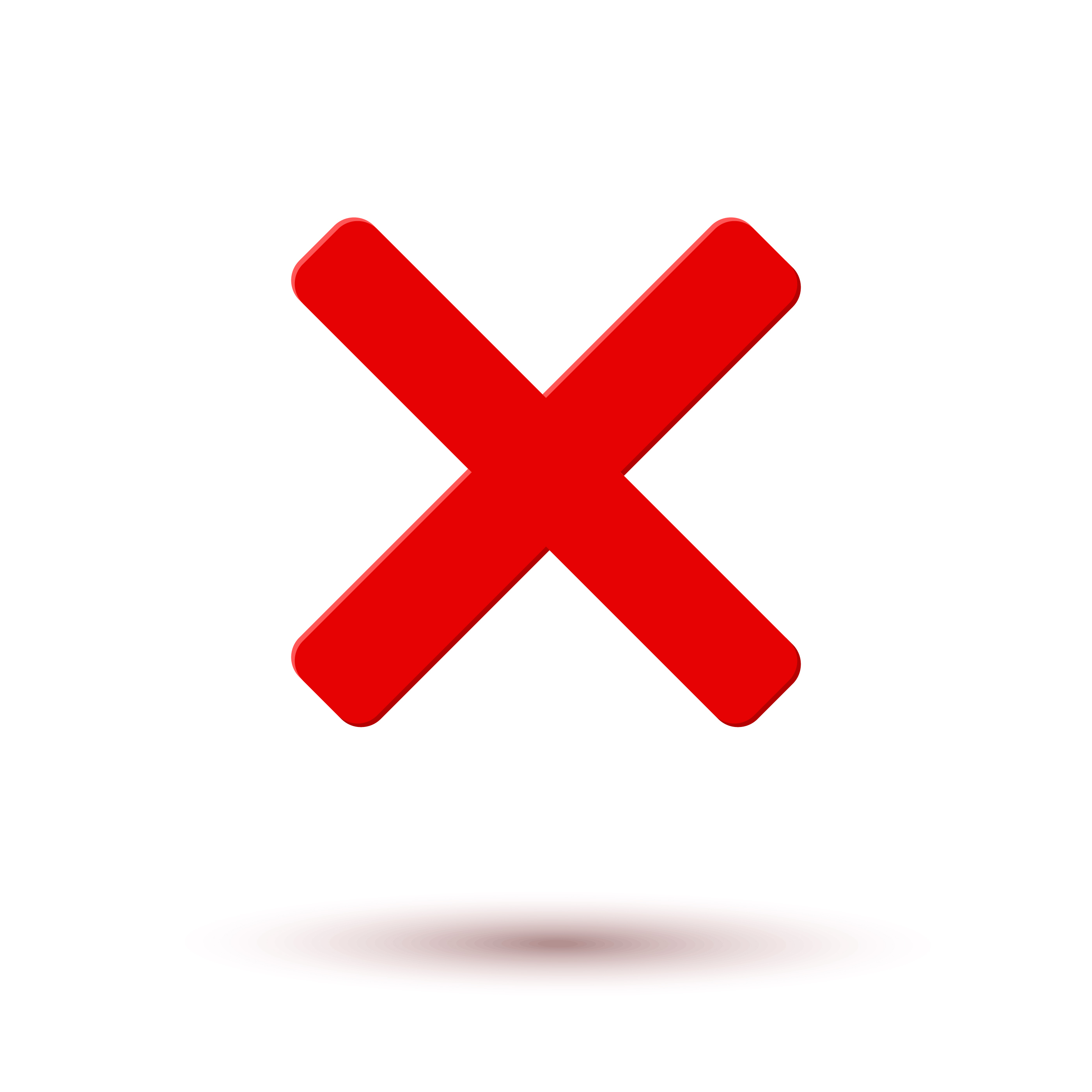 Some specific advice for healthcare professionals (HCPs) and people with diabetes:
For further Healthcare Professional COVID-19 guidance, please visit https://www.knowdiabetes.org.uk/professional/