Get your daily dose
It is becoming increasingly well known that increasing physical activity has huge health benefits. This is certainly the case in the prevention and management of diabetes – we know that up to 58% of cases of type 2 diabetes can be reversed by making the appropriate lifestyle changes. So why isn't everyone doing it?
One of the biggest challenges to maintaining an exercise programme is to find a way to incorporate it into your life so that it becomes an enjoyable part of your routine rather than a burden. 
We know that for people living with a long-term condition such as diabetes, it can be hard to find an appropriate exercise programme that is safe and achievable.  At EXi, we believe that exercise is for everyone and that everyone should be provided with the right tools to find what works for them.
Developed by 2 physiotherapists with more than 40 years of combined experience, EXi is a fully automated app that uses the latest medical evidence to provide a graduated and personalised exercise programme with your needs in mind. 
The App works by gathering a small amount of health and fitness information from the user including if they have any of 20 non-communicable diseases and then using our unique algorithm to provide the right exercise programme for that person.  Be reassured that safety is a priority:  An initial medical screen will assess your suitability for the programme and the app will analyse any risks and prescribe exercise accordingly. 
EXi will then provide you with a weekly exercise prescription that tells you how many days per week you should exercise and how long and hard you should exercise for.
Our years of experience as physiotherapists; prescribing physical activity programmes have taught us that the best type of activity for a person is the one that they enjoy the most. 
There's no point telling someone to go swimming, for instance, if they hate it!  We have options such as GPS tracking of walking, cycling and running and indoor exercises such as treadmill walking and static cycling. 
As people are having to exercise much more in their own home during the Coronavirus outbreak, we have a library of home exercise videos which are set at the right level for each person and which we are adding to consistently.
We think exercise should fit into everyone's life, so you don't need to complete your exercise target all in one go.  For instance, if your daily goal is 15 minutes, you could do a 5-minute video session in the morning and go for a 10-minute walk in the afternoon.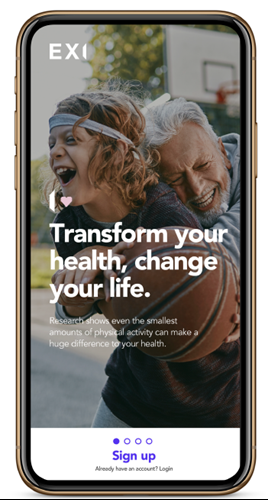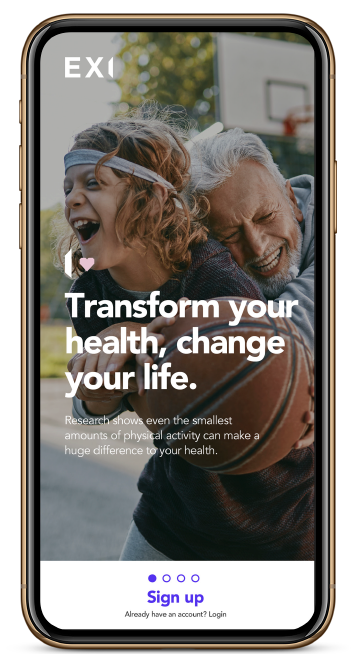 Other features of the EXi app include -
Weekly health tracking which monitors health metrics that are relevant to you

A medically validated 6-minute walk test at 0, 6 and 12 weeks to demonstrate how your fitness is improving

Connect to an Apple Watch (if you have one) for ease of use and real-time tracking of intensity

Library of health information on

diabetes

(and any other long-term conditions that you may have)

Social support from our HealthUnlocked forum

Technical and professional support via email on the EXi app

Share your data with your health professionals for further support
For people with diabetes, we provide exercise programmes at low to moderate intensity.  This means that you don't need to push to very high levels of exercise to get all the necessary health benefits.
| | |
| --- | --- |
| LOW INTENSITY | MODERATE INTENSITY |
| With low-intensity aerobic exercise, you should notice only mild increases in heart rate and body temperature. You should be able to breathe easily and maintain a normal conversation during exercise.  On an exertion scale, you should be working in the range of 0 to 3 (mild exertion) out of 10 (mild exertion). Your heart rate will be in the low-intensity training zone. | Moderate-intensity aerobic exercise is where you're able to hold a conversation but can't sing the words to a song.  Your breathing is quicker and deeper and your heart beating faster but not racing.  Your body is warming up, and you may break into a sweat.  On an exertion scale, you should be working in the range of 4 to 7 out of 10.  your heart rate will be in the moderate-intensity training zone. |
As health professionals, we have repeatedly seen the huge health benefits that people living with diabetes can achieve by completing the right exercise programme.  Ensuring you get enough exercise is even more important while we are all restricted due to the COVID-19 pandemic. 
EXi Exercise is here to support you on this journey, by providing a safe, achievable and interesting programme that is designed with the latest medical evidence and personalised to your needs.
Good luck with your programme and if you'd like any further information or have questions or feedback, please get in touch with us through the 'contact us' section on our website, we'd love to hear from you! If you are from North West London use the NWL code when signing up. Good luck.